Commercial Photography · Aerial Photography · Studio Rental · Classes
504 East Broadway, Columbia, Missouri · (573) 424-8486
May 17, 2011 - "Tasteful" web pages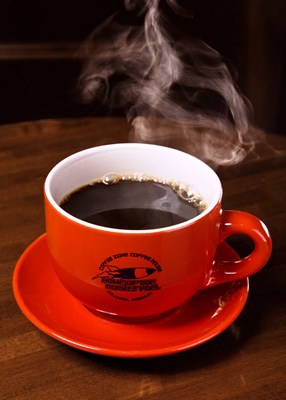 Any restaurant chef will tell you, it's not enough to have food that tastes good — the presentation is every bit as important. The food itself must look good, and it must be well plated, and served in an ambiance that matches the food. I believe this presentation should be carried even further: to the web site! More and more people are finding new restaurants and deciding where to eat based on a web presence, and a good presentation there will go a long way to attracting clientele. This requires a clean, well-designed and efficiently implemented web site, and also attractive and appetizing pictures of the food and the ambience provided there. No stock photography, please — we want to see what we're going to get when we get there!
Unfortunately, food photography is one of the most difficult disciplines in commercial photography. And the interior of a classy restaurant with a cozy feeling and appropriately dim lighting is not much easier to capture. As a result, many one-off restaurants have few or no photos on their web sites, or the photos are of poor quality and don't serve to enhance the appeal. On the other hand, a few restaurants have taken the care to get excellent photographs of both the restaurant and the food, and as a result, have a much more attractive web presence. We'll look at examples of each in today's blog.
Before I go any further, let me point out that I am only judging the effectiveness of the photography on the web-page, not the quality of the restaurant. In fact, I've eaten at all of the restaurants discussed today, and enjoyed them all. They all are among the best in Columbia (which is saying something!), and I heartily recommend every one of them. I'm also sticking to locally-owned restaurants. It's not fair to compare them to big chains that can get photos done regionally or nationally, and that operate with a much higher marketing budget overall. From the big chains, I would expect excellence (though I don't always see it!). For our local restaurants, struggling to get by on thin margins, it's a much tougher problem to get good photography. Tough... but not impossible! Oh, and the picture at left is one I took of a cup of "rocket fuel" at Coffee Zone on Ninth St., just because I thought I should start with something neutral, and, well, because I really love my coffee! None of the rest of the pictures are mine, good or bad. They are all copyrighted images, and are used here under fair use guidelines of commentary, criticism and teaching.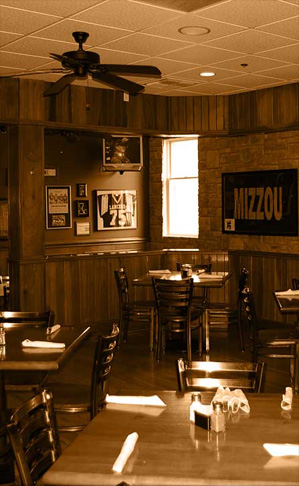 First let's start off with an example of a web site that has no visual impact at all: D. Rowes (www.drowesrestaurant.com). A great sports-themed restaurant, they have an extensive web site with many pages and lots of information... and just one picture, a sepia-tone image of a lonely corner of the restaurant, completely overblown by a bright window and featuring way too much ceiling. That picture, on the front page, is the only one I could find in the entire site. Now this is a place with a lot of visual appeal - a fun place to eat, with good attractive food. Why don't they show it more? Maybe because it's hard to do.
Having no pictures is bad enough — it's worse, I think, to have bad pictures, and that, unfortunately is what I find at Boone Tavern's photo page (www.BooneTavern.com/photos.html). The thumbnails of the six photos from their web site are shown (go to the web site for the full-size images if you want). The ones on top were all clearly taken with a low-powered on-camera flash, which produced terrible flare on the mounted pictures, and which illuminated only the very foreground of the other two, leaving the rest of the image dark and with a bad yellow color cast from the incandescent lights. The pictures in the lower layer were taken with available light, but are not particularly inviting. The best of them is probably the drink shot, but even it could benefit from some cropping (let's get rid of those plates!) and histogram adjustment to brighten the shot and punch up the colors. There are no shots of the main dining area (with or without people), and really not much that gives an idea of the food. In fact, from these shots you might think they only do buffet-style banquets, which is far from the truth! I would love to see this web site have pictures that reflect the elegance of this excellent restaurant, but these just don't do it.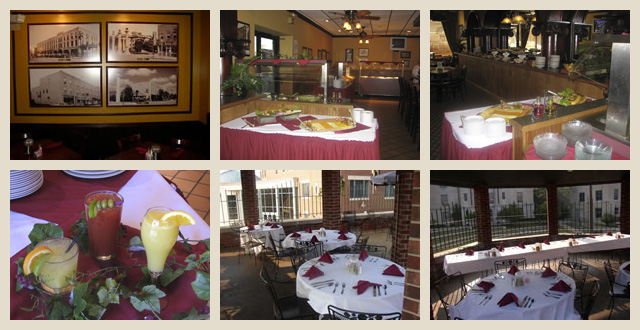 So does any restaurant in Columbia have good food photography? You bet! Check out the "Album" tab at Jina Yoo's Asian Bistro's site (www.jinayoo.com). It's a flash page, and it loads a little slowly at first if you don't have a really high-speed link, and the music is a bit much (though they do at least give a volume control on the top of the page!), but the photos are plentiful and excellent. There are lots of consistently beautiful photos throughout the web site, and they give a great sense of the style of the restaurant. The quality of the photography is outstanding: good composition and color, a consistent "feel" across all of the images, and uniformly appetizing shots that clearly reflect the food and ambience of the restaurant. The shots below are are just six of the many in their album. For my money, this is an excellent use of photography in a restaurant's web presence. And before you ask, no, I don't know who did their photography - I wish I could say it was me!
Whether you are promoting a restaurant, or a clothing boutique, a variety of consumer widgets, or just your capable office staff, well-executed professional photography can make a huge difference in the image you present. Make the effort to get excellent quality in your promotional materials, and the benefits will follow, guaranteed! Happy shooting!
-Art
Back to The Photographer's Journal
---